When it comes to turning over meat, especially bacon, a regular fork just doesn't cut it. It not only doesn't grip the meat, but the splatter potential is huge. No one wants grease or juice splattered in their face or on their clothing when they're cooking.
Many times we don't flip meat and bacon over enough times because we don't want to deal with the mess that comes along with it. That ends in meat that is burnt or overcooked on one side. Who wants that?
So, when I had the opportunity to review CaveTools' Short Pigtail Flipper, I was excited. We cook a lot of bacon in my house and I can't tell you how many times the grease has splattered or popped as I went to turn it over. Not getting a good enough grip on it was the main culprit. But, when I used the Pigtail Flipper, it was much easier to get a hold of the meat and turn it quickly.
The single prong at the top is sharp enough to grab the meat while the handle makes it easy to flip over the meat quickly and easily. This results in better cooked bacon and less grease splatter. I'm happy because there's no mess and my family is happy because they get bacon that's cooked well!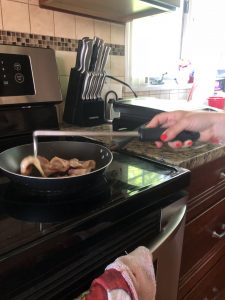 The Pigtail Flipper can also be used to turn over steaks and meat on the grill so you don't have the flames flaring up. Since you can use it both inside and outside, it's a win-win and a must-have in the kitchen gadget department.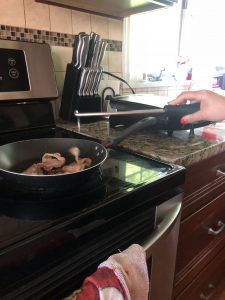 You can get your Pigtail Flipper at the Cave Tools site or on Amazon. Be sure to use the promo code Flipper15 so you can get 15% off your purchase.
Once you get your Pigtail Flipper to turn your meat, you won't turn anywhere else!