On a scale of one to ten, how annoying is it to have a sales person try to hose you down with the latest fragrance as you enter a store? If you ask me, it's a solid ten. Half the time you smell like you just bathed in whatever they are trying to sell you.
That's why I was excited to recently try out a product that leaves you smelling great without all of that drama.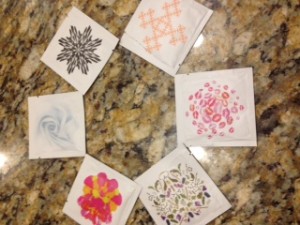 Have you heard of Pinrose? I honestly had not until a couple of weeks ago. Pinrose is a great company that offers perfume scents in the convenience of little individual towelettes besides bottles of your favorite fragrance.  You just apply and wait a mere fifteen seconds for it to dry. You end up smelling great without smelling like you poured an entire bottle of perfume over your body.
What's even better is that you can take a quick online quiz to find out which scents suit you best. My quiz showed Merry Maker, Renegade Starlet and Sugar Bandit were my go to scents. I tried all three as well as the others in my satchel. I have to say I liked my three the best with Renegade Starlet leading the pack.
I would definitely recommend this product as one to try out yourself or give as a gift if Santa is shopping around!
*Disclosure: I did receive complimentary Pinrose products to complete this review.